News
Subscribe to posts
New York Kinokuniya is hosting three bibliobattle events in February, March and April!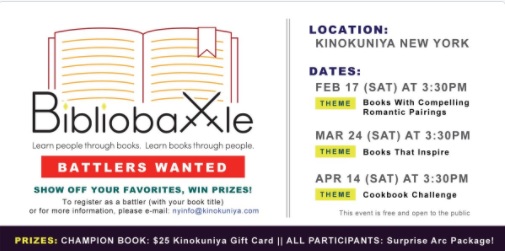 Bibliobattle will be held on Saturday, Octboer 29 from 3pm at Kinokuniya New York.
Won't you participate in this game?
Please check the following site for more information.
The first ever Bibliobattle at Kinokuniya New York was held on Saturday, July 23.
Five battlers presented passionately their favorite books, making it a fun game.
As Bibliobattle will be held again in New York in the near future, 
we are very excited for the next game and hope many people enjoy it!
The theme was Young Adult. 
The 5 books presented in the game.
1. "Kill the Boy Band" by Goldy Moldavsky
2. "The Blue Girl" by Charles de Lint
3. "Aristotle and Dante Discover the Secrets of the Universe" by Benjamin Alire Saenz ★
4. "The Perks of Being a Wallflower" by Stephen Chbosky
5. "The Knife of Never Letting Go" by Patrick Ness
★ The Champ-book of the day ("Champ-bon" in Japanese)
You can watch this game on Books Kinokuniya Official Channel(YouTube).
Kinokuniya USA
"Birth Day" finished third in the 2011 BiblioBattle in Tokyo.
Dr.Sloan gets interested Biblioballte and is introducing Bibliobattle with the following reports;
We open the new website for people who enjoy bibliobattle over the world!!
Let's join this FANTASTIC activity!!